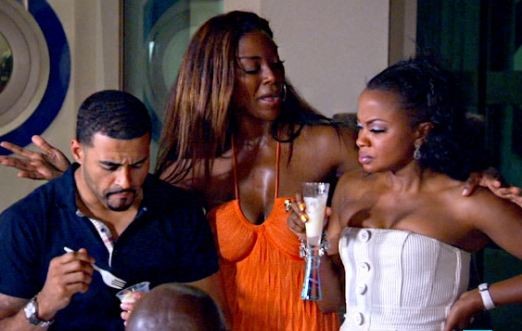 If anyone was watching Sunday night "The Real housewives Of Atlanta reunion was full of shade from many parties. One of the crazy events of the evening was when Phaedra Parks accused Kenya Moore of texting her husband. Then to add more crazy, Kenya says that Apollo had been texting her. What kind of foolery is going on? Why do people have people's husband's numbers, having access to even have interaction? I'm not a married woman but really nobody is calling my husband.

Here is what Phaedra says happened:
"Let's get this clear, my husband just asked her for advice on an acting coach. Kenya continued to text him, saying, 'Oh, you look nice,'" brushing off Apollo's texts to Kenya as harmless. Then, says Phaedra, "She propositioned him with a sexual act."
Phaedra check your man boo, he's not all the way being honest. Out of everyone Apollo could have asked about an acting coach you ask a woman who was clearly flirting with you, and even propositioned you and your wife for a threesome on the show last season. Come on son!