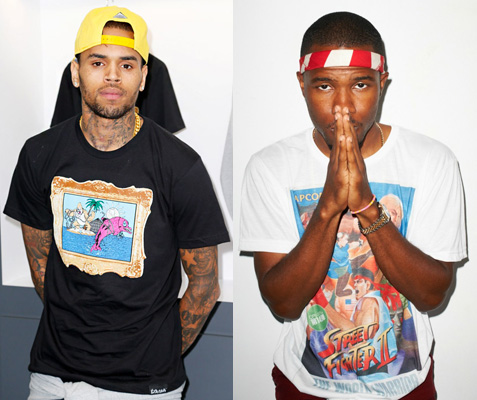 Chris Brown and Frank Ocean were reportedly involved in a brawl at a Los Angeles recording studio Sunday night.
The Los Angeles County Sheriff's Department confirmed receiving a call about six men fighting over a parking space, the
Associated Press
reported. The fight scene had dispersed by the time police arrived.
Though police did not name Ocean in the statement, Brown was listed as a suspect. "The altercation allegedly led to Chris Brown punching the victim," the police said in a statement.
In a Sunday night post on
Twitter
, Ocean accused Brown of assault. "got jumped by chris and a couple guys. lol. I only wish everest was there," he said.
Ocean added that injuries sustained in the altercation will affect his upcoming Grammy performance. "cut my finger now I can't play w two hands at the grammys," he adds via
Twitter
.
Frank Ocean (photo: WireImage)
According to reports from
TMZ
, the confrontation occurred as Brown attempted to exit Westlake Studio after listening to music from an artist with whom he works.
When Brown was walking out, "Frank Ocean and his crew blocked Chris from leaving," Brown's associates told TMZ. Ocean is accused of saying, "This is my studio, this is my parking spot."
A member of Ocean's entourage attacked Brown after the "Forever" singer attempted to shake Ocean's hand, sources told TMZ. One of Brown's friends intervened, hitting Ocean's associate, TMZ reports.
Individuals associated with Brown claim that Ocean charged at Brown. Brown reportedly retaliated by pushing Ocean and a fight ensued.
When police arrived, Brown had reportedly left the scene, however, authorizes were said to have spoken to Ocean."
aol.com
Chris I am looking at you with the serious side-eye, because don't you know people are waiting for you to mess up. I really didn't want to believe that you were violent and irrational but boy you making me second guess myself. You can't escape the penalties of the law forever, so please don't make them make an example out of you.